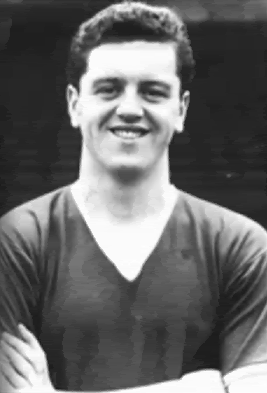 TOMMY TAYLOR
Born in 1932 in the South Yorkshire mining town of Barnsley, Tommy Taylor went on to become one of the greatest centre-forwards and goal machinesin the history of the game.
Ironically in his teens he played at left back. At 16 he duputised for his uncle in a local team, scored and made a great impression on those watching including a Barnsley scout and he duly signed for Barnsley later that year. He made his first team debut on 2 May 1950. Soon afterwards however he was obliged to do his national service in the army and then had a couple of serious injuries. On his return to the Barnsley first-team though he was a revelation, scoring 26 goals in 44 appearances. Barnsley were struggling on and off the pitch in Division 2 however and knew they would have to cash in on their prized asset. Sir Matt had been following his career with interest for some time before finally agreeing a deal of £30,000 in March 1953. Although Cardiff City actually offered more, Tommy preferred to go to United. Sir Matt however was keen to avoid Tommy being saddled with a £30,000 price tag and instead the deal was for £29,999 (he gave the extra £1 to a tea lady at Barnsley).
Tommy made his United debut at Old Trafford versus Preston on 7 March 1953. He duly scored 2 goals in his debut game and went on to score 7 in 11 appearances before the season was out and soon became a firm favourite with the fans.
International honours soon followed and in a time of many quality centre-forwards available to England, he nevertheless earned a regular spot and his international record is an astonishing 16 goals in 19 apperances!
The introduction of the Babes over the next season or two paid off handsomely for Sir Matt. Leading the line magnificently Tommy scored 25 gaols in 33 games in 1955-56 as United romped to the league title.
In Uniteds first European game, a 10-0 win versus Anderlecht, Tommy scored a hat-trick. The brilliant Babes swept all before them before losing narrowly in the semi-finals to the sublime Real Madrid team that won the first 5 European Cups.
United won the league even more decisively in 1956-57 (34 goals for Tommy) and reached the FA Cup final where they were expected to complete the first "double" this century; but Uniteds challenge was effectively ended as a horrific challenge on keeper Ray Wood went unpunished, McParlands goal stood and, in the days before substitutes, Wood had to 'make up the numbers' on the wing, and United a goal down and effectively playing with 10 men and an outfield keeper, succumbed 1-2, even then Tommy was the man who notched our goal.
The 1957-58 season brought high hopes for Tommy and his teammates. A hat-trick of titles was widely expected and with experience of European competition now in their locker, the possibilities for the team seemed limitless. Tommy could also look forward to leading the line for England in the 1958 World Cup that summer. As we all know so tragically, those dreams were never to be realised and we can only wonder at how history might have been re-written by this team , had it been allowed to survive and flourish.
Tommy Taylor was big, strong, lightning quick and possessed a bullet header (he even scored with headers from outside the box) and a thunderbolt shot. He was the archetypal 'perfect' striker. His record of 128 goals in 189 games for United stands alongside the all-time greats of Old Trafford and, as he was taken away from us just a week after his 26th birthday, we can only wonder at what his final goal tally would have been! Sir Matt had already made it clear that he would never sell him when Inter Milan made the then-astronomical offer of £65,000 for his services. The manager rejected the bid; his dashing young centre-forward was not for sale at any price. What a tragic shame that Sir Matt and the rest of us were unable to enjoy the full fruits of his judgment.
Born : 29 January 1932, Barnsley
Died: 6 February 1958
Signed for United: March 1953
United debut: v Preston 7 March 1953
League goals: 112 from 166 games
FA Cup goals: 5 from 9 games
European games: 11 from 14 games
Total goals: 128 from 189 games
England goals : 16 from 19 games.
© UNITEDLOUNGE.COM Reproducing this material, either in whole or in part, without the permission of unitedlounge.com is strictly prohibited